Part 8: Post-conversion Marketing – Thank You Pages
In Part 8 of our course, we're going to take a look at what happens after the conversion – confirmation or thank you pages.
Your marketing doesn't end with a conversion. Where there is intent there is opportunity.
Today's Course Outline
What is post-conversion marketing?
Why is it important?
Lead gen confirmation pages
Ecommerce click-through confirmation pages
1. What is post-conversion marketing?
Post-conversion marketing is the process of continuing the conversation with your new lead on a confirmation page. For lead gen this is the first page they see after completing the form. For click-through it's typically further down the funnel after a transaction has occurred.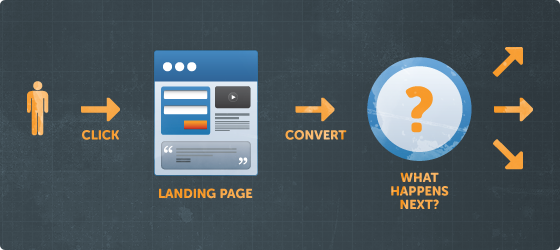 2. Why is it important?
Confirmation pages are an underutilized place to get more from your lead/customer. The reason it's such a valuable place to interact with these people is that they can be considered very "warm" given that they just completed your intended conversion goal – meaning they are looking at what you have to offer in a favourable light.
So what can you put on your confirmation page to further your relationship?
3. Lead gen confirmation pages
How you market to your leads after the initial conversion depends largely on what they have just done, and it's very important to keep the next step as contextually relevant as possible.
Here are some examples of post-conversion tactics you can use to leverage your new leads:
| Goal of lead gen page | Confirmation page action |
| --- | --- |
| Subscribe to a blog/newsletter | Subscribe to a related partner blog/newsletter as a co-marketing campaign (and they reciprocate on their side) |
| Download an ebook | Download related content |
| Download a travel brochure | Link to a specials page with time sensitive offers |
| Register for a webinar | Download a related ebook |
| Request a sales callback | Present frequently asked questions to inform the lead prior to the call |
| Request a online product demo | Exclusive offer such as no setup fees |
| Live event registration | PDF downloads of event programme, and local amenities |
| Product launch notification signup | Follow on social for updates and early access |
TAKE AWAY
The more you do for your new leads, the more likely they'll be receptive to your subsequent marketing efforts.
4. Ecommerce click-through confirmation pages
Ecommerce expert Linda Bustos from Get Elastic has some suggestions for how you can leverage the thank you page on your ecommerce sales funnel.
Ask your newly converted customers to:
Create an account
Offering a guest checkout allows shoppers to complete their order with no barrier to entry. Adding the option to create an account after a successful conversion is a win-win. It allows the shopper quicker access next time, and allows you to grab their email address. However, as Linda suggests, don't forget to romance the customer so they know why they should bother creating one.
Keep shopping
After the conversion, you have concrete evidence of purchase intent. Product recommendations may be very relevant to this type of visitor. Some examples of "re-shopping" are: the classic Amazon – people who bought that also bought this; mention that you've emailed a discount for their next purchase.
Opt-in to an email list
Take advantage of your new customer by asking them to subscribe to your newsletter for notifications of future sales and specials.
Share their purchase on social
Shoppers are often feel excited about their new process. Use this opportunity to ask them to share this feeling via social networks. An example tweet might be "I just bought the latest book my John Grisham http://linktothebookpage.com" which links back to the sales page for others to make a purchase.
Complete a survey
This is a good time to gather feedback on the purchasing process, which can lead to customer insights that will fuel your A/B testing experiments (we'll get into that later in the course).
TAKE AWAY
Don't consider the sales process over just because a purchase has been made. Always offer something for your customers to do next.
Let's learn how to market after the conversion
The conversation isn't over until your leads say it's over, so keep on keepin' on with your marketing.
Remember to follow along with a free Unbounce landing page account
You probably already have a free Unbounce account by now to build your landing pages. If not, you can open a free Unbounce account (60 seconds to sign up – no credit card required). This will let you create landing pages for the examples we use throughout the course.
Watch this video to learn how to continue marketing to your leads when they are at their warmest